Plugin Review – BuddyPress Group Reviews
Version Tested: 1.0.4
BuddyPress Group Reviews is a plugin that allows website users to submit reviews of groups, adding a vital feedback element for group owners. Reviews can be general or can include specific criteria.
Installation is a case of downloading and activating the plugin. Once that is done you will need to visit the plugins Settings page at Admin>>Reviews>>Group Settings. Here you will see there are a few tabs with a range of settings for you to choose:
In the General Tab you can choose to allow users to provide multiple reviews of a group, whether you want the reviews to be moderated by the group admin, the number of reviews to show, enable review notifications and whether those notifications will include emails to the admin. You can also exclude specific groups from having reviews as an option.
Just setting these options means that reviewers will get a free form text field through which to submit their reviews: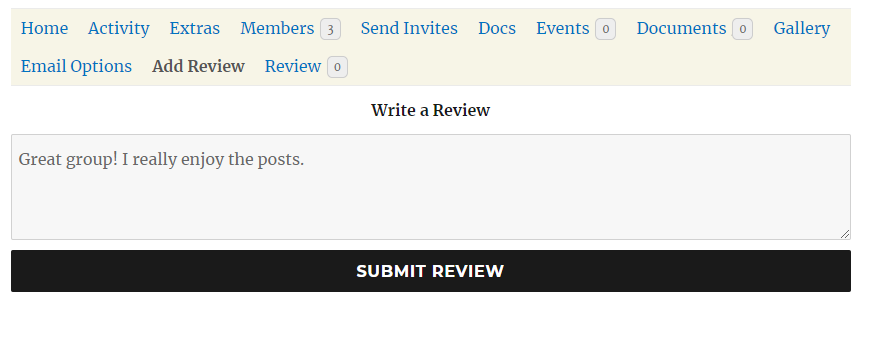 What I noticed about this option was that the plugin did not behave how I expected. I thought there should be an option to select the star rating for the group alongside the text review. But this does not appear as an option and whilst the star rating for the group is displayed, it is zero, as there's no place for the reviewer to award stars. I think this behaviour needs to change: Either the star rating should not be shown when this type of rating is used or ideally, the user should get to choose a star rating.
To enable star ratings you have to go to the Criteria Tab and set some review criteria: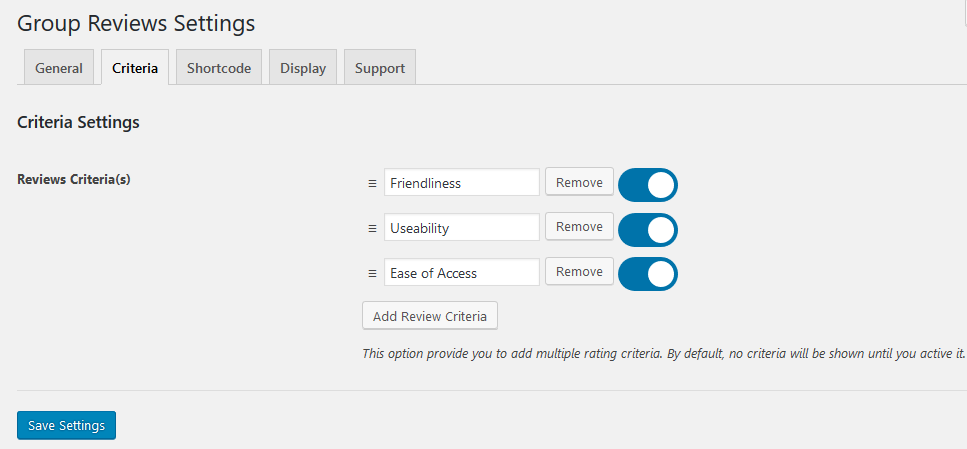 Once you have set some criteria, the reviewer is able to give each of these a star rating: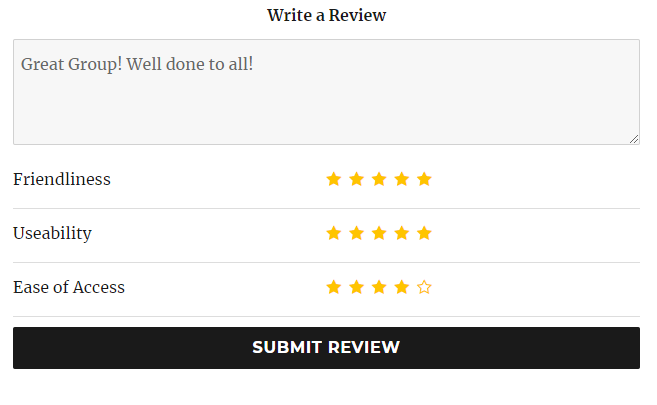 The plugin developers have created a short video to demonstrate the process:
This is probably the way most people will set up their review system – with at least one criteria in order to allow the star ratings to work.
There is also a Shortcode to allow you to display the group ratings submission form on other site pages, which is a useful. Note that group admin cannot review their own groups.
The plugin comes with customisation options in the Display tab to allow you to change the name and slug. A new Admin>>Reviews page provides a list of all reviews and the ability to view and edit these. One suggestion I have for this page is that it should list the group that the review is for in the list view to make it easier to analyse reviews for particular groups. An excerpt of the review comment would also be useful.
Overall I give this plugin 9 out of 10, it's got a lot of features and would come in useful for a wide variety of applications. Whilst I think some of it still needs some work overall the core functionality is solid, is well presented and formatted out of the box.
My Star Rating
Other Peoples Reviews
blazicstudios
Great Plugin!
This plugin was a life saver. Works really well so far!
January 5, 2021
pabloandrade
Nada Funciona !
Nada Funciona, fiz todas as configurações e nada funcionou Wordpress 5.5.1 / Buddypress 6.3.0 / Parece ser muito bom se funcionar !
October 1, 2020
darron29
Both Member Review and Group Review are Great Free Plugins
5 star to support
January 30, 2018