Plugin – BP Messaging Control
https://wordpress.org/plugins/bp-messaging-control
BP Messaging Control is a plugin that offers very powerful controls over BuddyPress messaging via a simple settings interface. The plugin maps out all the roles used on the site and allows each to be assigned No Messaging, Admin Only, Reply Only or Full Messaging. In addition monthly email quotas can be assigned per role. This is ideal for monetizing or differentiating messaging as part of your membership site. Control is over both private and public messages.
Once the plugin is uploaded and activates a new settings page is available in Dashboard>>Settings>>Messaging Control:
From here each site Email Role Restrictions can be assigned a messaging status, which the plugin will enforce.
Settings available:
Messaging Disabled – The Messages tab and Admin Bar Messages option will be removed for that user role, no messages sent from that role will be accepted.
Message Site Admin Only – Whilst messaging options will be available only the site admin will be accepted as recipients. All other users will be filtered from the send-to autocomplete list.
Reply only to other site users – This role can only message user who have already sent them a message, otherwise the recipient will be filtered and the message blocked. The exception is messages to site admin which are always allowed.
Freely message all site users – User Role can message all site members.
Messaging quota: set limits on how many messages can be sent each day/week/month.
In addition there is a section that allows each role to be assigned a monthly, weekly or daily email quota. Emails to site admin are not counted.
Where messaging is restricted, the restriction is noted in the users compose screen: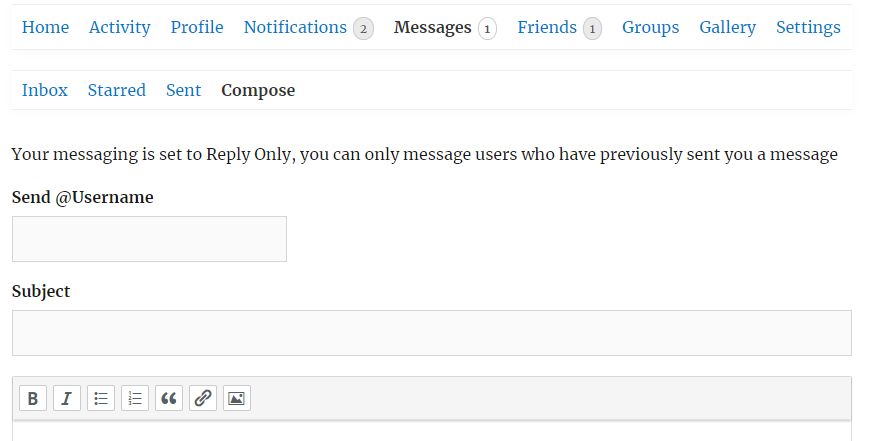 This plugin was created in response to user demand, it's a feature lacking in the basic BuddyPress install, the plugin is lightweight and ideal if you want to differentiate between differing user roles.