Plugin Review – BP Profile Status
https://wordpress.org/plugins/bp-profile-status/
Version Tested: V 1.5.0
BP Profile Status is a BuddyPress plugin that allows site members to set and manage status messages that are displayed on the members profile page within the cover page area.

Installation is simple, there's no settings to configure so it's a case of installing and activating the plugin then you can visit your profile in order to set your status.
The plugin adds a new link to the BuddyPress drop down menu of Profile>>Status, this takes you to the Status management page where you can add new status updates, edit old ones and set your current status.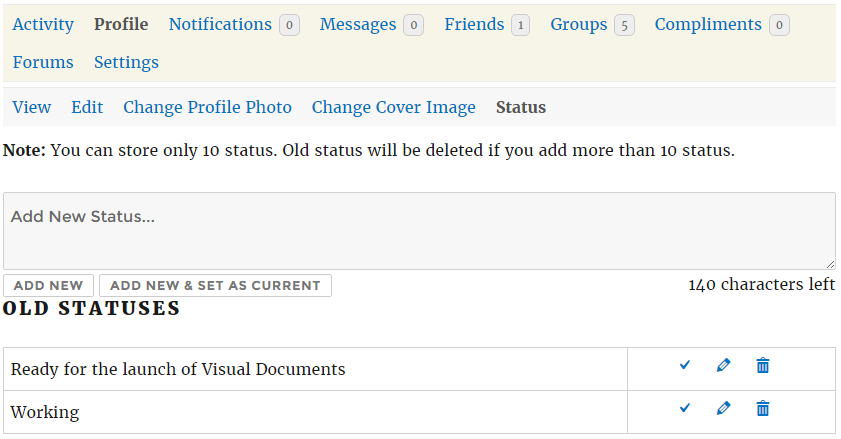 This plugin works great, my only suggestion would be to add a status timeout and add the concept perhaps of a default status.
This plugin works well, it does what it says on the tin so I'm giving it 9 out of 10.
My Star Rating
Other Peoples Reviews
uplinkpunk
Great plugin!
Nice support!
February 13, 2017
Manish Songirkar (manishsongirkar36)
Great plugin
Nice plugin.
December 22, 2016
browserco
Great plugin.
Thank you!
September 3, 2016
WPisGOOD
Good Work!
Than you for this plugin. It works great! [...]
There is something i have to share. I have to get in profile settings to change profil status. There must be easy way to change that profil status. I see on screen shots a pencil icon. The pencil icon didnt appear on my theme. I couldn't find it. Best Regards,
Read more »
September 3, 2016