Plugin Review – BP Better Messages
https://wordpress.org/plugins/bp-better-messages/
Version Tested: V 1.9.2.5
BP Better Messages is a BuddyPress plugin that turns BP Messaging into a threaded instant messaging type communication tool. You can disable the requirement for a subject line and also enable name search and file attachments.
Installation is a case of installing and activating the plugin from Dashboard>>Plugins>>Add New.
Once installed there are new options to configure in Dashboard>>Settings>>BP Better Messages. Here you get to choose between the free AJAX based version or the Pro WebSocket based version: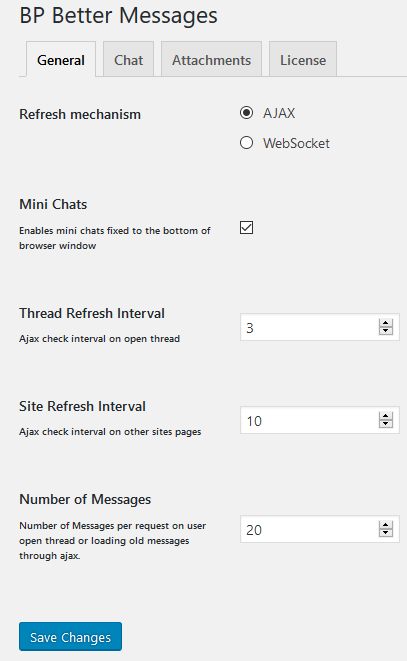 The WebSockets version offloads a lot of messaging activity to dedicated servers and so improves site performance, this is a pro feature and is enabled through the purchase of a licence.
There are several tabs in the Settings page – General, Chat, Attachments and License. The Chat tab allows user search to be enabled and the subject line to be removed: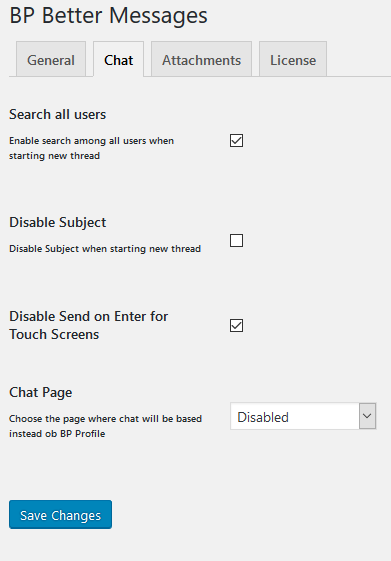 The Attachments Tab allows for attachments to be enabled and for the supported size and type of attachments to be set: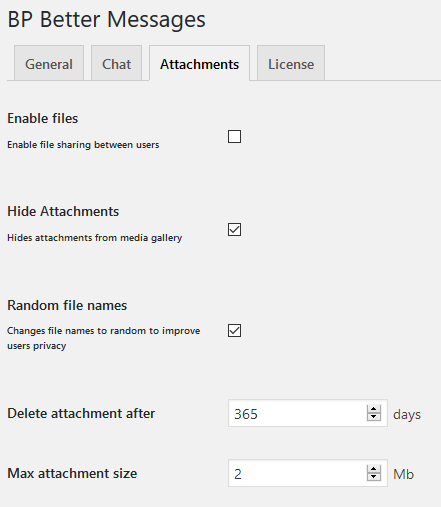 Once activated, The users BuddyBar menu item for messages changes to Threads: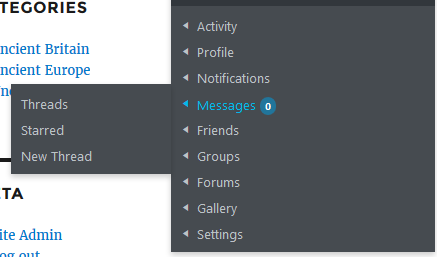 Now messages will be threads of instant message items, if both users are online, then the message page will be updated instantly – no need for the notification – load new page cycle so a considerable improvement over classic BP Messaging: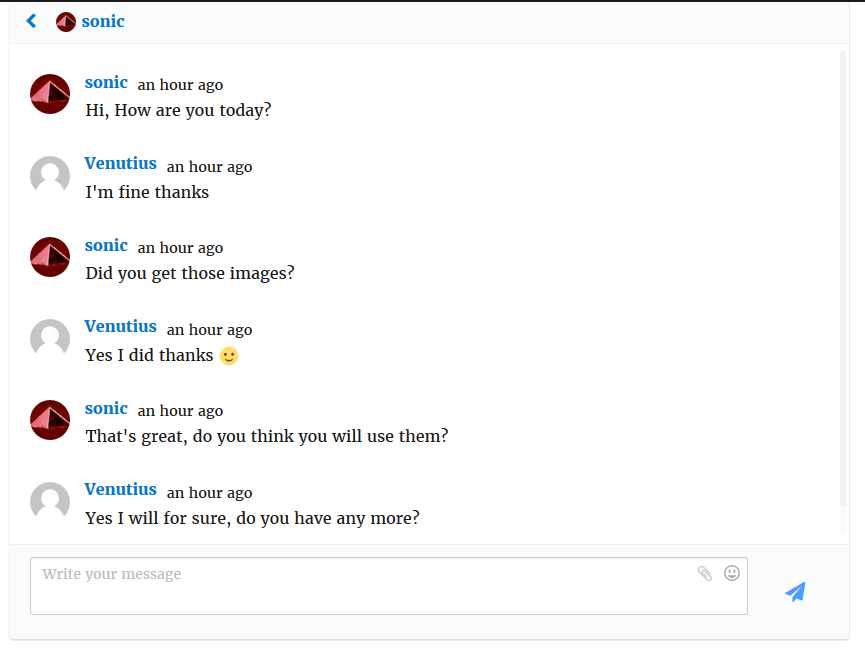 I give this plugin 9 out of 10. I think on the messaging front BP Better Messages is in general a big improvement and for some sites it will work very well. My only issue with it is that ultimately installing this means you are losing many features of BP classic Messaging, and this may not be appropriate for a number of sites.
My Star Rating
Other Peoples Reviews
modelaid
I have finished the Korean translation for Better Messages
I have finished the Korean translation.I just want to say thank you for developing such a good plugin.And I hope it will be translated into more languages so that many WordPress users can use it conveniently. [...]
Better Messages – Live Chat for WordPress, BuddyPress, PeepSo, Ultimate Member, BuddyBoss 한국어 번역을 모두 마쳤습니다.좋은 플러그인을 개발해 주어서 고맙다는 인사를 전하고 싶습니다.그리고 보다 많은 언어로 번역되어 많은 워드프레스 사용자들이 편리하게 사용할 수 있기를 바랍니다.
Read more »
May 26, 2023
mllapan
Good, a bit better styling needed
It's good, just styling should be better.
May 15, 2023
thegrbteam
Amazing Features For BuddyBoss and Excellent Support
We are really impressed with all the features and the video calling on BuddyBoss especially. The support has been excellent.
May 15, 2023
weymouthsolutions
Excellent!
Perfect for my needs and when I had an issue running the site as an app, the fix was presented within a few days! Keep up the great work!!
May 9, 2023
morisalisa
Better Messages - WebSocket Version - A great module!
Great product, convenient! Made by a professional developer. It works stably, without errors. We wish the developers success and further development of a useful product!
April 21, 2023
surrealpolitiks
Impressive Software with Impressive Support
I am the host of a radio show, and I was looking for a way to limit on air audience participation to paying customers. Better Messages provided this capacity in a remarkably cost effective and easy to use way. It does this without forfeiting audio quality, as one might guess had they not tried it [...]
out. But I did try it out, for free, which is a very nice feature of the premium version. You get to try before you buy, and since the plugin is so simple to use, it won't take you more than the three free days they give you to figure out if it suits your purposes. But what really makes Better Messages stand out is their support. If you send them an email you will get a prompt response that is in my experience helpful and friendly. Not canned copypasta either, a competent programmer will really respond to what you are saying. In addition to the actual help provided, this makes for the sort of confidence one requires when trusting a company. Buy it!
Read more »
February 28, 2023
alextechgr
The best messenger I found for WordPress
I was looking for a messenger that I could integrate to my website so users could chat. After plenty of research I stumbled across this plugin, I tried the free version and it was pretty solid. I switched to premium after some time to have all the bonuses, but that is optional in case you want [...]
better performance and more features.The developer is also very responsive and is always there to support my inquires. Overall a very good experience with this plugin.
Read more »
February 16, 2023
tatiana_k
Amazing!
I have a website with much activity and every time I try something new there are displeased remarks from some users. But this message system is so much better than the native buddypress pm system that literally everyone loved it immediately. [...]
My site has many specific features which make new plugins difficult to integrate but this plugin is one of the easiest to deal with. It has almost everything I need, and some helpful hooks to work with as well. The support is fantastic, very helpful and polite.
Read more »
January 27, 2023
tombludau
Support
I am very impressed with the innovations and additions that are continually being released by Better Messgaes, first of all. Every time I need help, even though it's an issue with my host, or whatever, Better Messages is right on top of it!
January 21, 2023
AmauriC
Perfect developer!
Andrij helped a lot to make the integration with an another plugin working. Thanks!
January 17, 2023