Plugin Review – BP Better Messages
https://wordpress.org/plugins/bp-better-messages/
Version Tested: V 1.9.2.5
BP Better Messages is a BuddyPress plugin that turns BP Messaging into a threaded instant messaging type communication tool. You can disable the requirement for a subject line and also enable name search and file attachments.
Installation is a case of installing and activating the plugin from Dashboard>>Plugins>>Add New.
Once installed there are new options to configure in Dashboard>>Settings>>BP Better Messages. Here you get to choose between the free AJAX based version or the Pro WebSocket based version: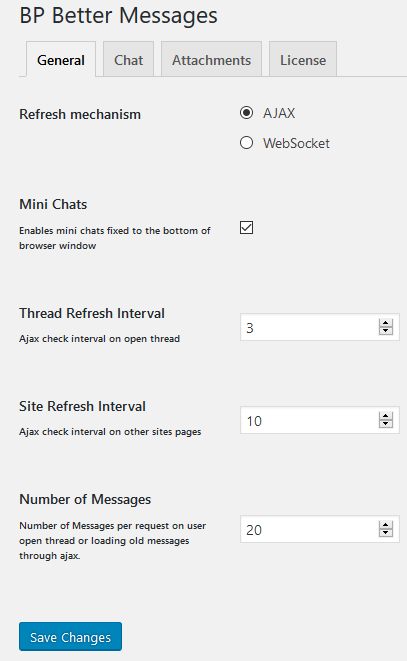 The WebSockets version offloads a lot of messaging activity to dedicated servers and so improves site performance, this is a pro feature and is enabled through the purchase of a licence.
There are several tabs in the Settings page – General, Chat, Attachments and License. The Chat tab allows user search to be enabled and the subject line to be removed: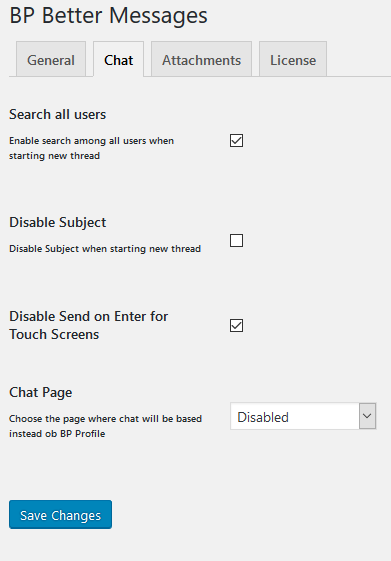 The Attachments Tab allows for attachments to be enabled and for the supported size and type of attachments to be set: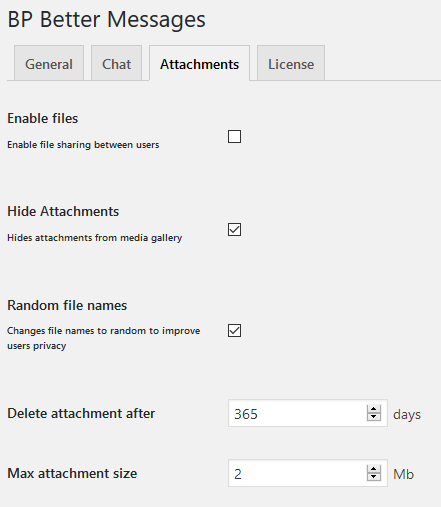 Once activated, The users BuddyBar menu item for messages changes to Threads: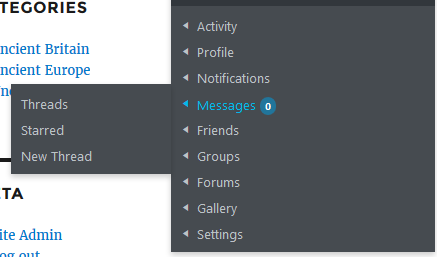 Now messages will be threads of instant message items, if both users are online, then the message page will be updated instantly – no need for the notification – load new page cycle so a considerable improvement over classic BP Messaging: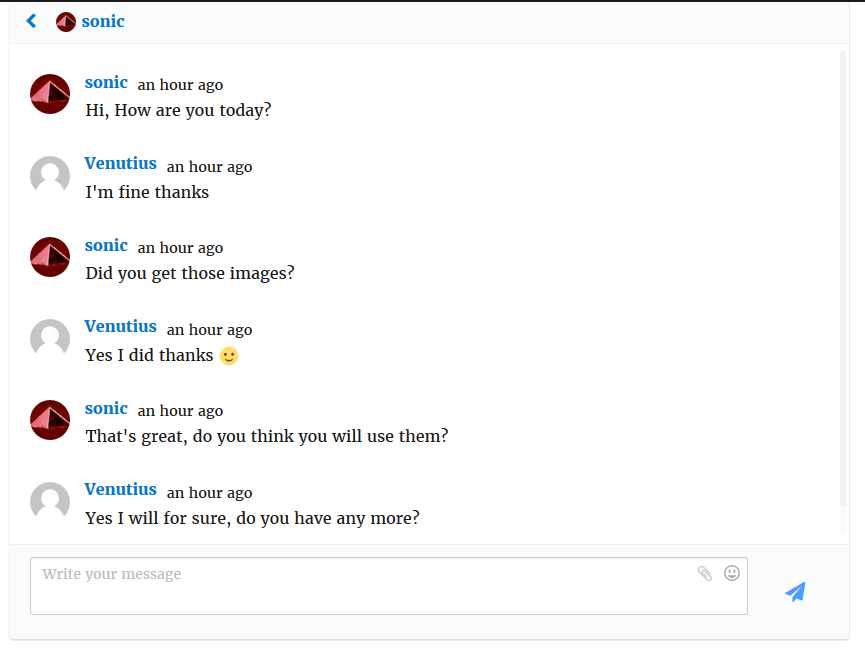 I give this plugin 9 out of 10. I think on the messaging front BP Better Messages is in general a big improvement and for some sites it will work very well. My only issue with it is that ultimately installing this means you are losing many features of BP classic Messaging, and this may not be appropriate for a number of sites.
My Star Rating
Other Peoples Reviews
jemavi
Exellent
Excellent support, using better messages for months now and each time I need help these guys are quick and reliable. Excellent customer service and quick responses to HELP requests when it comes to better messenger bugs or other fixtures.
May 8, 2022
pixelweave
Best All Round Chat Plugin
I needed a chat plugin for BuddyPress, and there is a myriad of plugins to choose from. So I looked at some review sites and chose from there. The plugins were a nightmare. Then I just happened to see this one and I thought, things cant be worse than this. It has everything. Tons of customization. [...]
What I particularly like is that if something is not working in reality its 5 minutes to change the setting. I loved the demo site and it's actually manned by an agent. That was kind of cool. The support has been second to none. I would definitely recommend this plugin.
Read more »
May 5, 2022
cmw14
Incompatable with plugin WP File Download installed
Loved the plugin but I can't use it, which is a real shame. Reason, there is a conflict that stops paging working for the wp File Download plugin. As I need Wp file download, I had to uninstall better messages. Keep hoping for a fix on subsequent releases but not yet.
April 18, 2022
kokotsakis
Best messages/chat plugin there is!
The functionality/function of this plugin is the best I've ever seen for a chat plugin, and the websocket version is totally worth it! You get a lot with the free version, but the websocket makes all the difference. I would personally prefer a little different design of it, and most of it is simple [...]
to style and change with a little bit of CSS knowledge. Those details that isn't possible with CSS, it would be awesome to have an option in the backend settings. But overall - easy 5 stars.
Read more »
April 18, 2022
liltrucks
Super Cool IM Plugin
Installed on BuddyBoss platform, instant messaging is really fast. Audio & Video Calls too! This plugin covers a lot of bases. I LOVE IT!
April 14, 2022
konstantinak
Amazing plugin and support
Amazing, super fast support. They even helped us fix an issue that was not caused by the plugin.
April 1, 2022
vtuncheff
One of the BEST plugins for WP and Buddypress
This is one of the best plugins for Buddypress I have ever seen. I have purchased the paid version and it's worth every penny. Support from development team is amazing. Strongly recommend it!! Thank you Andrij for your help and support.
March 21, 2022
socialmediawebsiteowner
Awesome Plug In!
I could not praise BP Better Messages (Premium) and its team more highly. I've had the premium version for a year now with the voice message addon once it became available. The plug in works great, there are many features, the price is right, and the team is stellar.
March 14, 2022
banzine
Best plugin / dev ever
Best experience with both a wp plugin and a wp developper. Instant support , tons of upgrades and always listening to suggestions for future updates. Paid features are also top class and worth the small cost 🙂
March 14, 2022
rrrobertsson
Great plugin
Transformed a social site project Im developing from being useless due to the lack of real time messaging system, into very interesting development - that is at final stages of development right now and hopefully launched within some weeks.
March 14, 2022