Plugin Review – BP Better Messages
https://wordpress.org/plugins/bp-better-messages/
Version Tested: V 1.9.2.5
BP Better Messages is a BuddyPress plugin that turns BP Messaging into a threaded instant messaging type communication tool. You can disable the requirement for a subject line and also enable name search and file attachments.
Installation is a case of installing and activating the plugin from Dashboard>>Plugins>>Add New.
Once installed there are new options to configure in Dashboard>>Settings>>BP Better Messages. Here you get to choose between the free AJAX based version or the Pro WebSocket based version: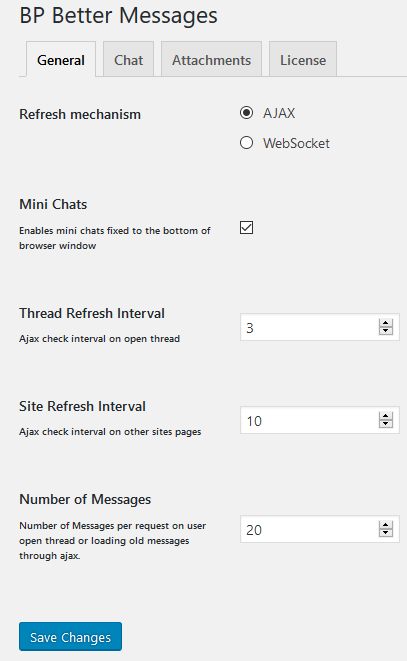 The WebSockets version offloads a lot of messaging activity to dedicated servers and so improves site performance, this is a pro feature and is enabled through the purchase of a licence.
There are several tabs in the Settings page – General, Chat, Attachments and License. The Chat tab allows user search to be enabled and the subject line to be removed: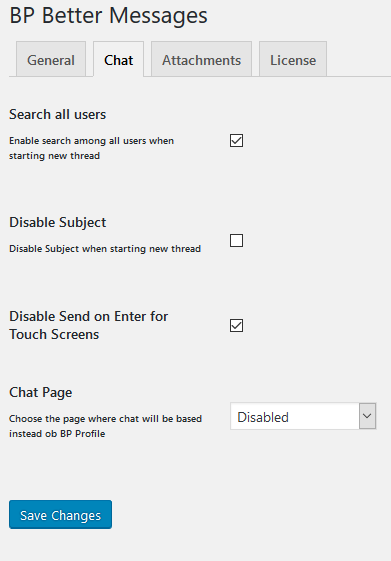 The Attachments Tab allows for attachments to be enabled and for the supported size and type of attachments to be set: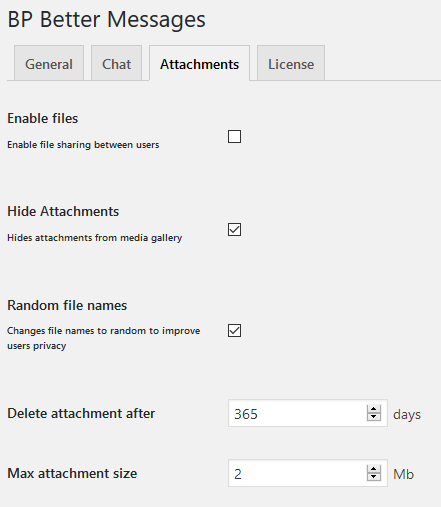 Once activated, The users BuddyBar menu item for messages changes to Threads: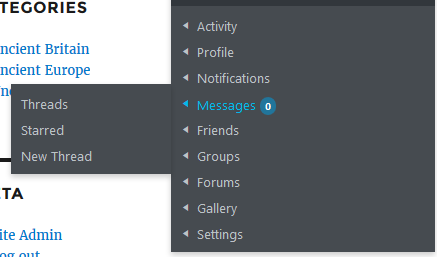 Now messages will be threads of instant message items, if both users are online, then the message page will be updated instantly – no need for the notification – load new page cycle so a considerable improvement over classic BP Messaging: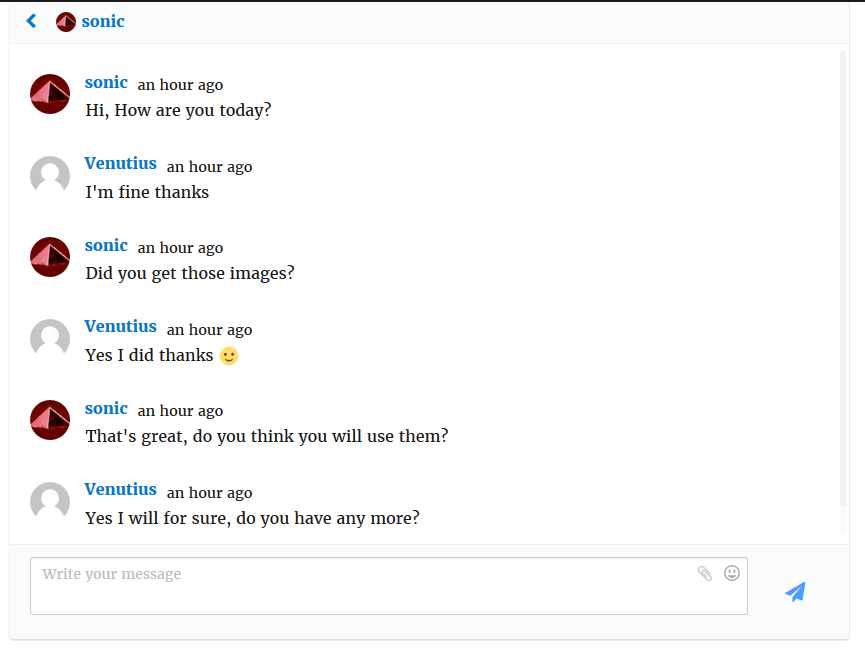 I give this plugin 9 out of 10. I think on the messaging front BP Better Messages is in general a big improvement and for some sites it will work very well. My only issue with it is that ultimately installing this means you are losing many features of BP classic Messaging, and this may not be appropriate for a number of sites.
My Star Rating
Other Peoples Reviews
kimherbs
Absolute best customer service I have ever experienced from a plugin author
Excellent messaging app aside, this is the absolute best customer service I have ever experienced from a plugin author. Seriously. He went beyond the call of duty for me when I asked about the possibility of changing the color of the chat box tab. I am so impressed. We just got the video/audio chat [...]
feature up and running and it's so much fun. An excellent addition to our site. First class all the way - both the product and the service behind the product.
Read more »
February 26, 2021
graphfit
Great plugin and even better support!
An all honesty, I originally downloaded this plugin without much hope that it would do what I wanted. Turns it does everything I need perfectly well and more. [...]
I reached out for some help with a question which was responded to within 1 hour, since then we have gone back and forth for more help and advice on how to best use the plugin in my particular processes. This is the first ever review I have left after using hundreds of WP themes and plugins, but felt it deserved recognition after the great experience I have had so far. Keep up the good work! Looking forward to see new features in the future.
Read more »
February 22, 2021
mcary1996
Great plugin and A+ terrific support!
I found BuddyPress messaging to be sub-par at best, installed BP Messages and we were off to a great start, the interface and several options provided for user experience were great. When I discovered something that didn't work quite right, their tech support was DILIGENT and VERY RESPONSIVE in [...]
getting it fixed super fast - I highly recommend using this plugin and hope they continue to support this plugin for many years to come.
Read more »
February 9, 2021
idraprogetti
Il plugin perfetto per la chat di BuddyPress
Tra tutti i plugin penso sia il migliore e l'assistenza è ottima; mi hanno aiutato con un'implementazione che mi serviva per il mio sito.
January 28, 2021
francescobo
Fast and incredible support!
I had a few issues with the mobile CSS and the translation to my native language and they helped me very fast and in the most supportive and professional way. Every Buddypress developer should install the plugin for the top notch support and also for the better design of the messages compared to the [...]
standard one of Buddypress.
Read more »
January 14, 2021
Clea (clearoz)
Best plugin and AMAZING support
After trying out a few other chat plugins for buddypress, I can confidently say that this one is the best ! The (backward) compatibility with buddypress native message system is especially appreciated. [...]
I have also purchased the premium version (starting at less than 10 USD/month... a steal !) and love the video call feature ! Great great job ! As for support, I have ran into a couple of issues and the plugin team has replied with minutes of submitting a request. They have also gone out of their way to hop on a call and help me solve my issue. I can't recommend them enough ! Keep up the good work on this plugin !
Read more »
December 3, 2020
roni_gabriel
Amazing Plugin - FAST Support!
The author of this plugin cares and will respond and fix any problems, and even help with css adjustments. And all that support was even for the free version of plugin! And VERY fast support. Plugin works perfectly with Buddyboss platform and Buddyboss pro theme! Thank you and keep up the super [...]
work!
Read more »
November 12, 2020
jonlolse
Great plugin and even better support
Amazing plugin and the support is even better. Would highly recommend the websocket version, which is much faster. Worth it.
October 13, 2020
shaddcoby
awesome!
awesome!
September 16, 2020
pinovero
really good plugin
after some initial compatibility difficulties with some old plugins, it turned out to be an excellent tool! fast and efficient assistance!
September 4, 2020