Plugin Review – BP Profile Search
https://wordpress.org/plugins/bp-profile-search/
Version Tested: V 4.7.3
BP Profile Search is a plugin that can integrate an advanced profile search feature into your Members Directory page that searches through all or selected profile fields.
After installing and activating the plugin you will need to go to Dashboard>>Users>>Profile Search to set up your search form by clicking on Add New.
Once you have created the new form you will need to add the fields that you wish to search, this will create your search form as it will be displayed on the Members page. There is a handy option to have one input field that searches all of the BuddyPress Extended Profile fields.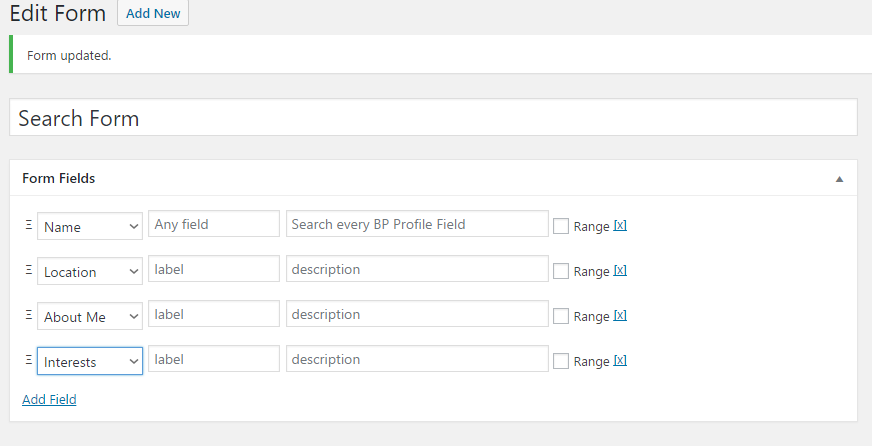 Once you have set up the form there are some other settings for the search that you will need to attend to.  You will need to choose if you want to add this page to the Directory (Members Directory).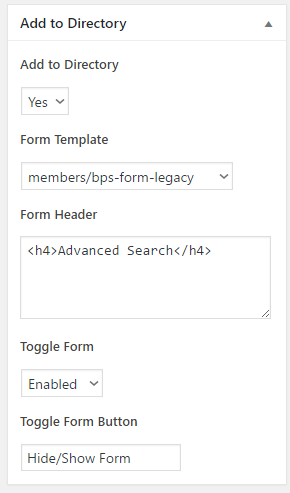 You might also wish to choose if you want the user to be able to toggle (display) the input form or just display it by default. This is useful when you have a large number of input fields in your search and you wish to hide those fields from cluttering up the members directory until they are needed. There is also the option of the kind of search that is performed – exact match or close match.
Once this new form is saved then it will be displayed at the top of the Members Directory and your members will be able to search all or selected profile fields when they are performing a member search.
An additional feature of the plugin is the shortcode which means you can display the search form on any page or post. Support is also included for member type fields.
Overall I found this plugin to be reasonably straightforward. It's a tad over-complicated due to the range of settings each form presents. I give this plugin 10 out of 10 due to the ease that it integrates itself into the members page.
My Star Rating
Other Peoples Reviews
akalwp
Vulnerability report
Hi, I found this = https://www.globalsecuritymag.fr/Vigil-nce-WordPress-BP-Profile,20170213,68923.html speak about vulnerability (php script injection) Are you aware about this possible vulnerability ? Kind regards Akal
October 18, 2017
Todd Pettee (tanukichan)
Extremely Useful!
This is one of the most useful plugins I've ever installed on a WordPress website. It works perfectly and has every feature I needed. Thank you!
August 20, 2017
zo1234
Great & useful plugin
Great plugin, great support!
May 17, 2017
egemenerd
Excellent!
Thank you very much for this great plugin!
February 2, 2017
lestradesign
Great, Great!
Nothing less than perfect. Both, plugin and support! Thank you Andrea!
January 20, 2017
Airat Halitov (airathalitov)
Useful plugin and good support!
Useful plugin and good support! Thank you @dontdream
December 20, 2016
ositive
What to say..just thanks for this great plugin!
What to say..just thanks for this great plugin!
November 13, 2016
zabavljaev
Many thanks!
One of the most useful plugins for buddypress!
October 12, 2016
Mark (markob17)
Dude, nailed it! Fantastic plugin.
This is exactly what I was looking for in a search feature for Buddypress. Works right out of the box and absolutely 0 issues. Sure there could be more features, but I can't complain one bit. Thank you for creating this my friend. Without people like you, WordPress wouldn't be what it is today. I [...]
hope the WordPress creators really appreciate all you independent developers who make their platform what it is by dedicating your time and experience to create awesome plugins for the community at large. Regards!
Read more »
September 3, 2016
ayinde4u
Suitable for dating Site
BP Profile Search is just too good. I am using it to develop my dating and social network site.
September 3, 2016