Pro Plugin – BP Custom Pages Pro
BP Custom Pages Pro is a premium BuddyPress plugin that allows for the creation of up to 20 private and public custom pages within the users profile.
BP Custom Pages Pro sets up two custom posts types – bp-custom-pages and bp-private-pages. Only site admin are able to create new posts of this type. Once at least one custom pages has been created the user will see a new tab in their profile for the custom pages.
The name of the tab which holds the custom pages can be renamed via the plugins settings.
Each custom page can be editted with standard page buiders as well as the WordPress editor, and BuddyPress widgets and shortcodes that use the bp_displated_user_id() function will detect each users individual options.
Using BP Custom Pages Pro site admin can set up a range of pages as follows:
Public Pages  – pages viewable by other users of the website
Private Pages – pages only viewable by the profile owner.
BP Custom Pages Pro is ideal for site admin who want to set up Dashboard, Help or other pages within the users profile thus providing a user specific customised set of pages specific to the site in question.
Support for Shortened URL's
Another feature of BP Custom Pages Pro is the ability to use shortened URL's for the public custom pages.
So for example, the standard URL for a custom page would be as follows:
sitename.com/members/username/custom-pages-slug/custom-page.
This is a complex URL that an ordinary user would be hard pushed to remember, however with BP Custom Pages Pro the following URL structure is enabled:
sitename.com/custom-page/username
On activation, the plugin adds two new menu items – "BP Custom Pages" and "BP Private Pages":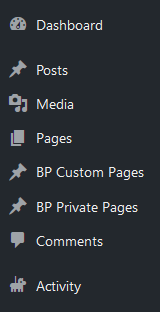 Once active, you can go to Settings to set the menu names for the custom pages: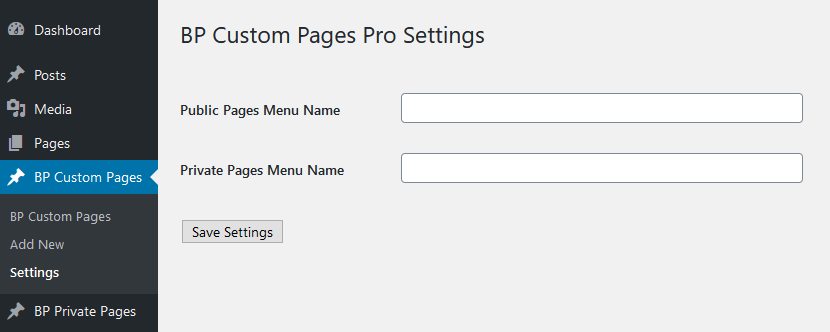 Then you can create your custom pages: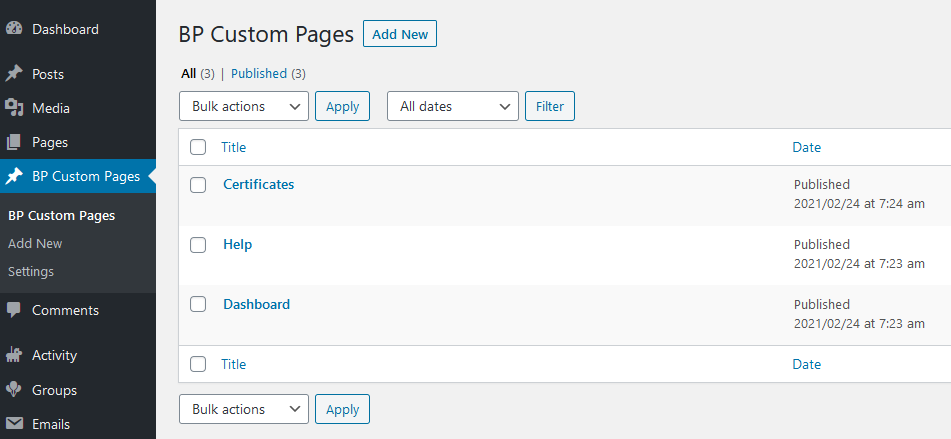 Once the pages are published, they will appear in the users profile menu:
Buy BP Custom Pages Pro
You can purchase BP Custom Pages Pro for a one-off charge of £20.00.
Following purchase we will email BP Custom Pages Pro to you and add your email to our updates database for future product updates.