Plugin Review: BuddyPress Activity Filter
https://wordpress.org/plugins/bp-activity-filter/
Version Tested: V 1.0.3
BuddyPress Activity Filter is a useful plugin that allows you to customise the the way the BuddyPress activity feed works. It allows site admins to limit which filters are available on the activity page, limit which activity filters are available on the main site-wide activity page and customise the activity updates for each post type.
By default BuddyPress tends to record all site activity into the main activity feed, this can often mean that unwanted items are displayed which may detract from the way you want your site-wide activity to work. BuddyPress Activity Filter can help with this by modifying what filters are available on the Activity Page and also limiting which post types show up in the Activity stream.
BuddyPress Activity filter, once downloaded and activated adds a new menu item to Dashboard>>Activity>>BP Activity Filter Settings. Here there are three tabs that pretty much give you full control over how activity works on your site:
Activity Filter Settings allows you to choose default filter for the activity page, which is the first view your site members will see upon visiting the page. Note that all the other filter options will still be there, but this will allow you to set the initial view.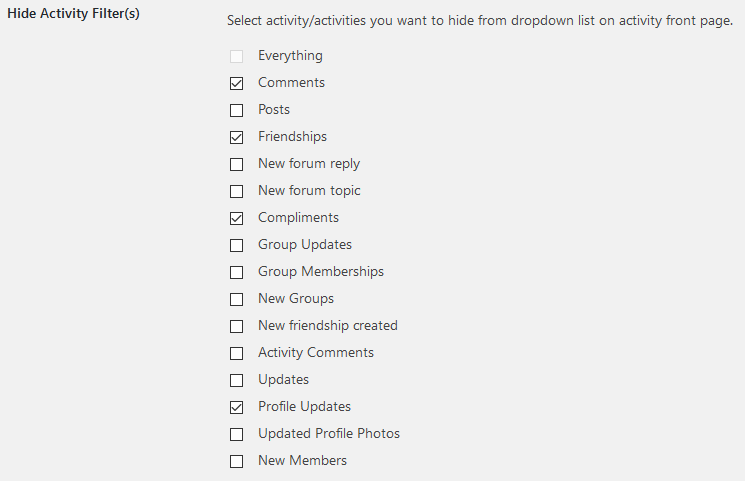 The Hide Activity Filters tab allows you to hide specific activity filters from the site-wide activity page.
Post Type Activity displays all post types registered on the site and allows you to restrict which post types are added to the activity feed, where they are displayed and also how they are displayed by allowing you to rename the action in the activity stream.
I found this plugin simple to use and very effective in that it gave me a lot of customisation options that I'd been looking for. However, I also noticed I wanted more. I'd like better control of exactly what posts to activity. For example I might like to have the option to remove new friendships from my activity feed completely, or perhaps group memberships.
I'm giving this plugin 10 out of 10 as it delivers much needed functionality to BuddyPress, I hope it's development continues and further options such as the controls I've mentioned.
My Star Rating
Other Peoples Reviews
nextupproject
Renaming doesn't work
Renaming post type doesn't work with buddyboss platform.
September 4, 2019
3ring
Terrible, rude support.
Have tried to get support on issues with this plugin but plugin author support team is not at all helpful and somewhat rude. Unless you're a coder that can fix the issues you might have with this plugin, don't expect too much in the way of help from the author support.
May 24, 2019
gabereisinger
Didn't work
I tried to use it, but it didn't work. When I tried to save the filter settings it didn't save them.
September 24, 2018
darron29
Easy Simple to Use
I saw the Reign theme video. Works like a Pro
January 30, 2018